Have you always dreamt of being behind the wheels of a real race car?
What if I told you that you can experience the closest thing to actually driving a REAL race car in the comfort of your home…. with state-of-the-art realistic modelling system and collision physics?
My name is Mike.  I am an semi-pro race car driver (Spec Miata & Formula Vee) who doesn't always have the luxury of being able to get to the track regularly.  Life's busy, you know, and I don't get to race as often as I'd like.
That's why I always wished there was a decent race car simulator out there that I could jump on whenever I liked to practice.  The problem was that none of the games out there even came close to being "real".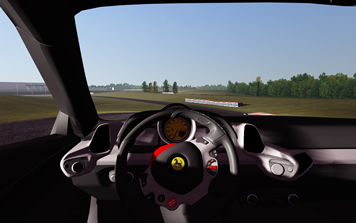 VRacer is as real as it gets. With realistic controls, all inputs accurately mimick how the car reacts

In other words, it realistically simulates actual driving. Many racing games deliver sights and sounds that will push your hardware to its limits, but NONE of those games actually deliver on realism.

Experience the REAL EFFECTS of the torque, drag and the forces of race driving. Actual physics are built into the core of VRacer… that means each car feel as authentic as possible when it came to justifiable physics on handling and acceleration

VRacer calculates the G-Force, braking, acceleration, rotational speed of each wheel, engine speed, and other details that would help replicate the same scenario as a real racer … in all possible situations.

In short, the simulator is built to mimic "real driving " … to give you the real experience of race car driving.

VRacer comes complete with real-world variablessuch as fuel usage, actual damage/collision model, tire wear and grip, and suspension settings.

You will learn how to maintain control of a car as the tires lose traction, and how properly to enter and exit a turn without sacrificing speed. Go into a drift for too long or take a turn too tightly, and you ran the risk of spinning the car around

When you get into the seat, you will see that the panels and controls are what you will find in a real race car.

Whats more, VRacer uses ground effects and spoilers to simulate real driving action! It contains cool realistic features like lighting and smoke to make the race experience more engaging!

This is the closest you will come to driving real cars on a real track!
YES! Give It To Me Now! 
I Want To Experience The Real Racing Simulator With VRacer Today!
Everything you need to get started! You'll get the complete VRacer game with 40+ race cars and 30+ international tracks plus free monthly updates for life!

Comes with INSTANT access + CD. You can download the game immediately and get the disc in your mailbox.

Free Bonus: Race track & car editor software so you can create your own track and customize your race car!
You can download the game immediately!
Remember, you are protected by my 100% money back policy. If you are not satisfied for any reason within 60 days, I guarantee I will refund each and every penny you paid.