Paleo 100% Grass Fed beef Sticks
With our newest ultra high quality product, we've created a snack that is not only gluten free, grain free, soy free, dairy free, preservative free, and non GMO but is Paleo-friendly, NUTRIENT-DENSE, gut-friendly, a clean protein, and EXTREMELY TASTY!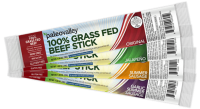 And Let's Not Forget The 7 Biggest Benefits
of Grass Fed Beef:
Higher levels of omega-3 fatty acids
Optimal omega-6 to omega-3 ratio
Elevated levels of Conjugated Linoleic Acid (CLA) – Grass-fed beef is one of the best sources of CLA. CLA exerts potent antioxidant activity. Studies have documented CLA's ability to prevent diseases like cancer, diabetes and heart disease.
More minerals – grass-fed beef contains more calcium, magnesium, potassium, zinc, phosphorus, beta-carotene and iron than grain-fed beef.
Higher B vitamin content specifically (thiamin (B1) and riboflavin (B2)
Increased levels of fat soluble vitamins A, D, E and K. Fat soluble vitamins enhance mineral and protein absorption and are believed to protect against cardiovascular disease.
Elevated concentrations of your body's master antioxidant, Glutathione – a powerful antioxidant that helps protect the body from oxidation and DNA damage.
Choose Your Package (2 Options)
FREE SHIPPING ON ORDERS OF 4 OR MORE
Each pack contains 10 sticks