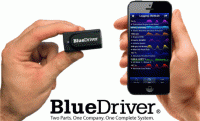 The Professional OBD2 Diagnostic Scan Tool trusted by mechanics and developed by Professional Engineers
Officially licensed and certified for Apple and Android devices
The BlueDriver App and BlueDriver Sensor work exclusively with each other to ensure quality
All the capabilities of expensive handheld scan tools plus the benefits of your smartphone or tablet (free app updates, portability, saving data, interactive graphing of live data)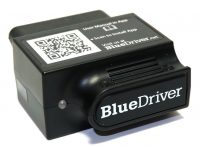 BlueDriver® is a Professional Diagnostic Scan Tool. Read or clear trouble codes when the check engine light comes on.
Read and clear Enhanced codes (e.g. ABS, Airbag, Transmission, etc) on GM, Ford, Chrysler, Toyota (more to come!)
To deliver the best experience, the BlueDriver Sensor and the free BlueDriver App (on iTunes and Google Play) are designed to work exclusively as a single tool.
Older negative reviews focus on charges to unlock features in the App. The only purchase you ever need to make is the BlueDriver sensor listed here. No in-app purchases or subscription fees.
BLUEDRIVER FEATURES
– Read and Clear Codes
Confirmed CEL Codes – all makes
Pending CEL Codes – all makes
Permanent CEL Codes – all makes
Enhanced Codes (e.g. ABS, Airbag, Transmission, etc) – GM, Ford, Chrysler, Toyota (more to come)
– Freeze Frame – Vehicle snapshot when a code is stored
– Smog Check – See if the vehicle is ready for a smog test
– Mode 6 – Advanced test results (like misfire counts)
– Live Data – Graph multiple PIDs or export log to a file
BLUEDRIVER SPECIFICATIONS
– Supported Vehicles
Works with all 2001 or newer petrol vehicles
Works with all 2004 or newer diesel vehicles
Works with all EOBD/OBD2 protocols (including CAN)
– Supported Phones/Tablets
Licensed to work with Apple iOS
Licensed to work with Android
– Supported Hardware/Software
The BlueDriver Sensor and free BlueDriver App are designed to work exclusively as a single tool
– Supported Language
English