The Amazing Spider-Man – Spider Vision Electronic Mask with Glowing Web Disks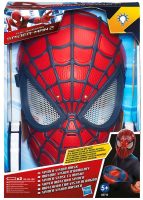 The Amazing Spider-Man Spider Vision Mask The Amazing Spider-Man Spider Vision Mask activates glowing web discs that let you pretend to take down your foes with a single sling, just like The Amazing Spider-Man!
Press a button to activate the mask's spider vision, throw a web disc, and watch as it flies through the air with an amazing spider glow! Pretend to fight crime with super spider vision View larger Fight Crime With Super Spider Senses The Amazing Spider-Man is always up for adventure and never hesitates to use his remarkable powers for good. His Spidey sense helps him track down the bad guys, and his spider vision makes sure his webbing always hits its mark! With his awesome web-slinging powers and super senses, he fights crime, takes down foes, and keeps the streets safe in style.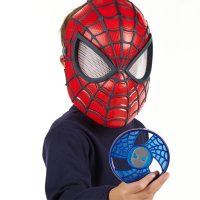 Now you can pretend to fight crime like Spidey with the Amazing Spider-Man Spider Vision Mask. Just remember, with great power comes great responsibility! Activate spider vision to make discs glow View larger Sling Glowing Web Discs Put on the Spider Vision Mask and imagine you have the awesome web-battling abilities of Spider-Man. With the press of a button, activate your mask's spider vision, then throw the included web discs and watch as your mask makes them glow! Imagine that your spider vision gives you the power to take down the wall-crawler's most fearsome foes!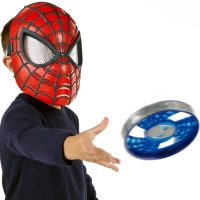 Pretend you are The Amazing Spider-Man, slinging webs, catching criminals, and saving the day like a true hero! Adjustable straps for a comfortable fit! View larger Imagine You Are The Amazing Spider-Man Pretend to wear the mask of your favorite hero and sling 2 glowing web discs to battle the bad guys! The Spider Vision Mask is one size fits most, and the straps inside are adjustable for a comfortable fit. Demo batteries are included. View larger Includes Includes one Spider Vision Mask, 2 glowing discs, demo batteries, and instructions.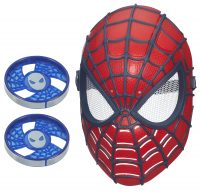 Imagine Spider-Man adventures at a whole new level with this Electronic Hero FX Mask. You'll feel just like your favorite web-crawling hero in this detailed superhero mask with incredible glowing eyes. The web-slinging sounds and 10 different Spider-Man phrases make you look and sound like him. Evil doesn't stand a chance while you're in your Spider-Man Hero FX Mask
Box Contains
1 x Spider-Man Electronic Hero FX Mask